New Washington Office "Under Construction"
October 5, 2017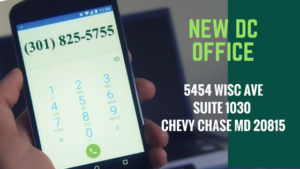 We are now located in our temporary office space located in the Barlow Building, Suite 1030, in Chevy Chase.  The Barlow Building is the new Washington, D.C. location for Whitten Laser Eye.  Our other two office locations in Richmond, VA and Charlotte Hall, MD have not moved.
Dr. Rose and Dr. Whitten are presently conducting their dry eye and vision correction consultations on the 10th floor (Suite 1030) of the Barlow Building while our brand new state-of-the-art vision correction center is under construction upstairs.
We are excited to move into our new vision correction center and are creating one of the most advanced, comprehensive and personalized vision correction care centers in the area.
"Concierge" Approach
Drs. Whitten and Rose are one of the most experienced teams in the nation when it comes to vision correction, LASIK, premium cataract surgery and the Raindrop inlay (for the treatment of presbyopia).  Our support staff each has over 25 years of experience with refractive surgery, including LASIK.
Our facility will have the latest diagnostic equipment to help Dr. Rose and her team to diagnose and recommend solutions for your visual needs.
Not every patient needs a vision correction procedure and we know it.   Accurate diagnosis and a thorough examination will help us to offer the best solutions or alternatives to get you to see better....with or without surgery.  
Best in Vision Correction Technology
As in our other centers, the "Barlow Building" office will be equipped with our state-of-the art excimer and femtosecond lasers allowing us to perform your vision correction procedures "in-house" at the same location.  The excimer and femtosecond lasers are integral to laser vision correction procedures and the Raindrop Near Vision Inlay.
Dry Eye Evaluation and Treatment
A vital part of every refractive evaluation should include an assessment for dry eye.  Dr. Rose, a national leader in pre-operative evaluation and management of dry eye, will evaluate and recommend treatments for any element of dry eye.
Successful treatment of dry eye depends upon the cause.  Meibomian gland dysfunction, a common cause of dry eye, can be easily demonstrated and treated with the LipiView and LipiFlow systems.  For others, omega-3 fatty acids may also offer improvement.
Want to visit our new office?  Call us to make your appointment (301.825.5755).
Shilpa Rose, M.D.
Vision Correction & Dry Eye Specialist
Mark Whitten, M.D.
Vision Correction Surgeon
LASIK, Cataract & Raindrop
The material contained on this site is for informational purposes only and is not intended to be a substitute for professional medical advice, diagnosis, or treatment. Always seek the advice of your physician or other qualified health care provider. 
These are surgical procedures and results may vary. While infrequent, complications can occur. Before your procedure, you will read an Informed Consent document which discusses potential complications and risks. Dr. Whitten will thoroughly review this information with you and answer your questions.