Our Doctors
Mark Whitten, MD
Dr. Mark Whitten is a board-certified ophthalmologist, the Medical Director of Whitten Laser Eye and a Founding Partner of Vision Innovation Partners.
The most experienced LASIK surgeon in the Mid-Atlantic Region.
Has more than 40 years of ophthalmology experience in the Washington D.C., Southern MD and Richmond, VA areas.
Performed over 200,000 laser vision correction procedures and earned a national reputation for excellence in eye care.
Utilizes the most advanced technology in LASIK and Cataract Surgery.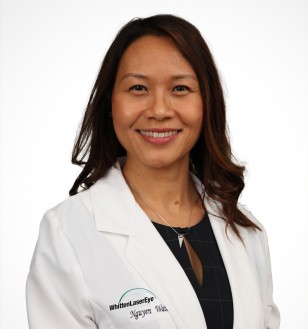 Nguyen Waterman, OD
From our Chevy Chase, MD, location, Dr. Nguyen Waterman practices comprehensive eye care including routine eye exams, contact lens fittings, glaucoma and cataract evaluations, as well as pre and post-op surgery care. She also specializes in macular degeneration, diabetic eye, and strabismus evaluations. Dr. Waterman has a passion for treating dry eye patients and those who suffer from eye related allergies.
Kimberly Deugwillo, O.D.
Kimberly Deugwillo O.D., MSLVR, is a comprehensive Optometrist at Whitten Laser Eye who has a special interest in low vision, dry eye and contact lenses.