What is "Board Certified"?
May 29, 2018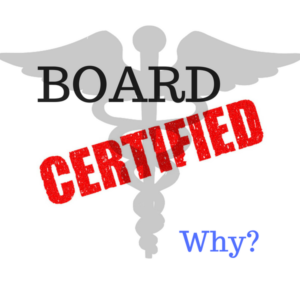 What is "Board Certified"?
After physicians graduate from medical school, we are required to complete a residency in their chosen field. After this residency, we are eligible to take the medical licensure exams to obtain a state-issued permit to practice medicine.
Board certification is an additional step—a rigorous process of testing and peer evaluation that was designed by officials at the American Board of Medical Specialties and its 24-member boards.
Board certification used to be a one-time extra step that physicians could elect to take to further "certify" that we were qualified. In other words, it was an additional step beyond completing medical school, a medical specialty residency (that depending on the specialty can last from three to seven years) and then passing the four required medical licensure exams to obtain a medical license.   
Previously, a doctor who took that additional extra step and passed the board certification exam and evaluation for his or her chosen specialty was board certified for his or her entire career.  However, in 1990, the American Board of Medical Specialties (ABMS) decided that doctors must recertify every 10 years.
The American Board of Ophthalmology is the oldest medical specialty certifying board.  Ophthalmologists, regardless of sub-specialty, must pass a four-hour 150 question recertification exam.
A good portion of the exam is based upon general ophthalmology, regardless if you are sub-specialty trained and DO NOT practice general ophthalmology. 
Why Board Certification is Necessary?
Most hospitals, malpractice insurance companies (that insure doctors for malpractice lawsuits), and insurance companies (who pay for treatments) require their participating doctors to be board certified. So, practically speaking, you must be board certified if you want to have hospital privileges, obtain malpractice insurance, or participate in health plans as a providing doctor.
The Rise of Subspecialization in Medicine
The American Board of Ophthalmology was created in 1916, more than 100 years ago.
As medical knowledge and the technology of treatments and interventions grew, it became apparent that one physician could not remain knowledgeable in all areas of medicine.  For this reason, subspecialties were created. Subspecialization allows physicians to focus their abilities on the causes and treatments of specific problems and diseases.
The Need for Subspecialty Board Certification Exams
The board recertification exam requires all doctors to study all ophthalmology topics. The test requires general knowledge of general ophthalmology and not only knowledge of the subspecialty.
The American Board of Ophthalmology does not offer subspecialty certification, yet there are several recognized subspecialties in Ophthalmology
Cataract and Refractive Surgery

Cornea and External Diseases

Glaucoma

Neuro Ophthalmology

Ocular Oncology

Oculoplastics and Orbit Surgery

Ophthalmic Pathology

Pediatrics

Uveitis and Immunology

Vitreo-Retinal 
The board may consider sub-specialty certification to reflect our training and the medical intervention we provide to our patients in the future.
For now, when looking for a board certified ophthalmologist, rest assured that we have been tested and continue to be educated in all areas of the field of ophthalmology.
If you are interested in scheduling an appointment with Dr. Rose or Dr. Whitten at any of our locations, please call or email us!