Stacy's LASIK | Part 3 | Life After Having LASIK
May 11, 2018
This is Part 3 of 3 of Stacy's video testimonial of her experience with LASIK eye surgery and Drs. Mark Whitten and Shilpa Rose.  Stacy had LASIK performed by Dr. Whitten after having pre-operative consultations with both Drs. Whitten and Rose.  In Part 1, Stacy describes her motivation and concerns about contact lenses and glasses and why she chose Whitten Laser Eye.  In Part 2, Stacy had just had LASIK the day before and describes how easy the procedure was and how fast her vision improved.
You can view:
Part 1- Pre-LASIK Testimonial
Part 2- The Day After LASIK
History of Myopia | Contacts Since a Kid
Like many of our patients, Stacy is very nearsighted (myopic) and has had to wear contact lenses and glasses since a young age.  After years and years of contact lenses, she found her eyes becoming drier and drier.  Finally, the nuisance and discomfort motivated her to consider getting rid of her contact lenses and glasses though a vision correction procedure.
As a young professional in her 30s, she considered having LASIK.  Her procedure was performed a couple weeks before this segment of her LASIK testimonial was recorded.
Life Has Changed
Life without glasses or contact lenses allows her to wake up in the morning and "see everything right away."  She loves the luxury of falling asleep while watching TV without the worry and bother of her contact lenses.  No more drops for dryness caused by her lenses!
The entire process was easy from the procedure through the recovery.
What's more, she feels, like so many of our patients, that her vision is actually better after having LASIK compared to vision with glasses or contacts.
The tearing, light sensitivity, gritty feeling and sensitivity to light (common symptoms of dry eye) are all gone and she says, "...it's the best thing I've done in my life."
If you are interested in laser vision correction or simply want to schedule an appointment with Dr. Rose or Dr. Whitten at any of our locations, please call or email us!
---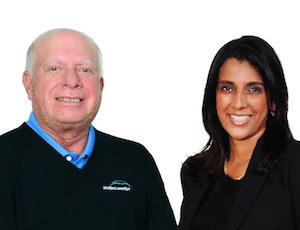 Shilpa Rose, M.D.
Vision Correction & Dry Eye Specialist
Mark Whitten, M.D.
Vision Correction Surgeon
LASIK, Cataract & Raindrop