Stacy's LASIK | Pre-Operative LASIK Testimonial
April 21, 2018
This is the first of a 3 part video testimonial documenting Stacy's recent experience with LASIK.  Stacy has a history of nearsightedness and has been using contact lenses and glasses for most of her life.  For many reasons, she decided to have laser vision correction. After consultation with Dr. Rose and Dr. Whitten, we recommended she have LASIK to restore her vision.  
She had LASIK vision correction with Dr. Mark Whitten earlier this Spring.  These are her comments shortly before having LASIK.
In the embedded video, Stacy talks about her decision and motivations to consider LASIK.  As a very active 30+ year old female, she had wanted to become contact lens free for years.  While contact lenses gave her better quality vision compared to her glasses, she found she was suffering more and more with the nagging symptoms of dry eye.  She notes many of the common symptoms of dry eye such as:
blurry vision

tearing

foreign body sensation, grittiness

sensitivity to light
All these symptoms were exacerbated with contact lens wear.  She was getting more and more miserable with time.
Heavy Contact Lens Wearer
Like many of our patients, Stacy is very nearsighted.   She started wearing contact lenses around the age of 10.
Due to her nearsightedness, she was not able to see more than a foot or so in front of her without contact lenses, that is, she was very dependent upon wearing lenses and wore them for over 10 hours a day.  Her progressive dry eye symptoms were making it very difficult for her to continue in lenses.
Tipping Point
Most recently, Stacy switched to daily lenses.  Daily contact lenses are expensive. After her consultation with Dr. Whitten, she learned she was likely to become intolerant of the daily contact lenses, too.  She decided to move forward with her LASIK.
If you are interested in laser vision correction or simply want to schedule an appointment with Dr. Rose or Dr. Whitten at any of our locations, please call or email us!
---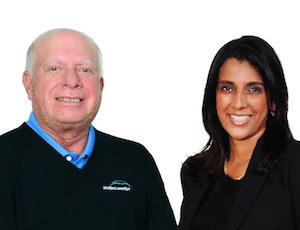 Shilpa Rose, M.D.
Vision Correction & Dry Eye Specialist
Mark Whitten, M.D.
Vision Correction Surgeon
LASIK, Cataract & Raindrop