Stacy's LASIK | Pt. 2 - The Next Day | Video Testimonial
April 30, 2018
This is Part 2 of a 3 part video testimonial documented by our recent patient Stacy G.  Stacy had LASIK performed by Dr. Whitten after a complete and thorough pre-operative evaluation with Dr. Rose.   In Part 1, Stacy talks about her motivation and concerns prior to choosing Whitten Laser Eye.
You can view:
Part 1 - Pre-LASIK Testimonial
These are Stacy's remarks the next day after having LASIK.
Why Stacy Wanted Laser Vision Correction
As a nearsighted child, Stacy had been wearing contact lenses most of her life.  Now in her early 30s, symptoms of dry eye were making contact lens wear more difficult.  Self-described as a "heavy contact lens wearer," she had motivation to be contact lens free  due to the increasing intolerance to lenses.
Before surgery, Stacy underwent a thorough examination, including evaluation for dry eye.  We prefer that any element of dry eye be addressed prior to the actual surgery.   Untreated dry eye can cause miscalculations and lead to disappointing results as a healthy tear film and cornea provide about 75% of the total focusing power of the eye.  This is why reshaping the cornea can have such dramatic improvements in the refraction of the eye.
Next Day After LASIK
Stacy had LASIK performed to both eyes to correct her myopia (nearsightedness).
Stacy's comments are typical of most of our patients undergoing LASIK vision correction.  The procedure is often described as painless and patients go home and sleep for a few hours.  Vision was immediately improved, a little cloudy, but improved significantly by the time she saw Dr. Rose the next morning.
This testimonial was recorded the next day after having LASIK with Dr. Whitten and her post-operative examination with Dr. Rose.
I Wish...
She wishes she had done this sooner.  Stacy is now free of the nuisances and annoyance of her contact lenses.  It has become a game changer.  After surgery, and toward the end of the video, she exclaims, "I wish I had done this years ago."
If you are interested in laser vision correction or simply want to schedule an appointment with Dr. Rose or Dr. Whitten at any of our locations, please call or email us!
---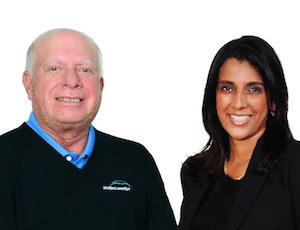 Shilpa Rose, M.D.
Vision Correction & Dry Eye Specialist
Mark Whitten, M.D.
Vision Correction Surgeon
LASIK, Cataract & Raindrop