Solar Eclipse Can Blind | Protect Your Eyes and Vision
August 11, 2017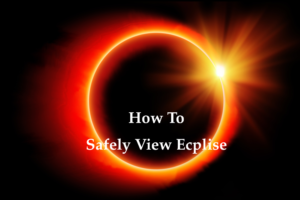 Staring at the sun or a solar eclipse without proper solar filters can lead to blindness.  The Great American Eclipse 2017 will occur on August 21, 2017.  Be prepared to witness this unique astronomical event with proper "eclipse glasses" or solar viewers.
The sun can directly cause damage to the retina.  Your cornea and lens are not affected by the sun's light.  
Never stare at the sun or an eclipse without having specially equipped glasses or solar viewers designed to look at the sun.  Binoculars and telescopes not equipped with special ISO solar filters can cause permanent damage to your eyes and even cause blindness.  Even the darkest sunglasses will not protect your eyes.
Path of Totality
A total eclipse of the sun creates a path of totality.  Within this 70 mile wide path, the moon will completely block the sun's light for 2 minutes and 40 seconds.  Those outside the path will experience varying degrees of loss of the sun's light depending upon your geographic location.
The path of totality will involve 11 states moving east from Oregon to South Carolina.  Those within this path will experience dark twilight (nighttime) during the total eclipse.
The last solar eclipse was in Indonesia in 2016.  The next solar eclipse will be in South America in July, 2019.
Sun Light Can Blind You
Directly staring at the sun can blind you.  The sun can burn your retina and cause permanent loss of vision.   This condition is called solar retinopathy and occurs when the sun burns your retina.  
The cornea and lens are not normally harmed as they absorb little light energy.  There is no cure or treatment for solar retinopathy.
Safely Look at the Sun
As recommended by the American Academy of Ophthalmology and the American Astronomical Society, you can protect yourself and your vision by using "eclipse glasses" or special solar viewers.  These devices use special filters which comply with ISO 12312-2 safety standards to view the sun.
Even dark glasses will not protect your eyes.
These specialty filters are thousands of times darker than ordinary sunglasses.  The American Astronomical Society recommends this list of companies that manufacture eclipse glasses and solar viewers.
An alternative to eclipse glasses and solar viewers is a pinhole camera.  A pinhole camera is safe way to view the eclipse.  Using materials found around the house (stock paper, foil, tape, pin/paper clip), you can indirectly view the eclipse.  
Protect your eyes and your vision.  Routine examination with a board certified ophthalmologist can insure your receive proper diagnosis and treatment of any eye disease.
The total eclipse of the sun is a "once in a lifetime" event and Whitten Laser Eye shares this information with you to make sure you protect your eyes as you watch this astronomical wonder.
Protect and maintain the health of your eyes at all times!
More on the Solar Eclipse from Whitten Laser Eye
If you are interested in scheduling a consultation for laser vision correction or a routine examination, please call us (301.825.5755).  My team and I look forward to meeting you.
---
Mark Whitten, M.D.
Vision Correction Surgeon
LASIK, Cataract & Raindrop
Shilpa Rose, M.D.
Vision Correction & Dry Eye Specialist
The material contained on this site is for informational purposes only and is not intended to be a substitute for professional medical advice, diagnosis, or treatment. Always seek the advice of your physician or other qualified health care provider. 
These are surgical procedures and results may vary. While infrequent, complications can occur. Before your procedure, you will read an Informed Consent document which discusses potential complications and risks. Dr. Whitten will thoroughly review this information with you and answer your questions.