Shilpa Rose, M.D.: View Eclipse with Only ISO Eye Protection | Fox 5 News
August 20, 2017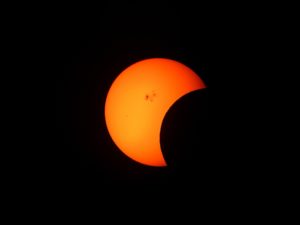 Dr. Shilpa Rose shares these tips on Fox 5 for safely viewing the upcoming solar eclipse.  Directly viewing the sun, including an eclipse, can cause permanent damage to your eyes.  Direct damage to your retina can result from the sun's powerful, but harmful, light rays.
Learn how to properly protect your eyes.
Dr. Shilpa Rose appeared on Fox 5 to talk about proper protection and safe ways to view the Great American Eclipse of 2017.
Use Only ISO Filters
There is absolutely no protection from any type of "sunglasses" - use only ISO compliant filters found in authentic "eclipse" glasses and solar viewers.  ISO 12312-2 filters are 1000s of times darker and stronger than any sunglasses commercially available, including:
DO NOT USE THESE
Prescription sunglasses
3D glasses
Boutique/Expensive sunglasses
Tinted lenses prescribed after eye surgery:  cataract surgery, LASIK
Disposable sunglasses given after eye examination
Path of Totality
The path of totality is the path across the United States where the sun will be completely blocked from the earth.  The path of totality is 70 miles wide and will travel from Oregon to South Carolina.   Those viewing the total eclipse of the sun within this area should experience 100% blockage of the sun.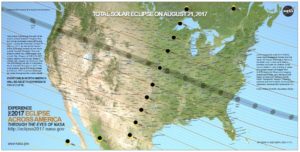 Those of us not within the path of totality will experience a partial eclipse of the sun, that is, we will experience varying degrees of partial darkness.
The ONLY time to look directly at the sun is when the sun is completely covered by the moon.  This will occur ONLY in the path of totality.
Don't Watch Directly
If you can not find certified ISO filters to directly watch the solar eclipse, you can make your own pin hole projector to indirectly view the event.
Dr. Rose demonstrates how to build Pinhole Projector using commonly found materials at home.  Instructions for building your own Pinhole Projector can also be found on the NASA website.
The pinhole camera, an example of the camera obscura principle, allows you to indirectly view the solar event without exposing your retina directly to the sun.
The total eclipse of the sun is a "once in a lifetime" event and Whitten Laser Eye shares this information with you to make sure you protect your eyes as you watch this astronomical wonder.
Protect and maintain the health of your eyes at all times!
More on the Solar Eclipse from Whitten Laser Eye
If you are interested in scheduling a consultation for laser vision correction or a routine examination, please call us (301.825.5755).  My team and I look forward to meeting you.
---
Mark Whitten, M.D.
Vision Correction Surgeon
LASIK, Cataract & Raindrop
Shilpa Rose, M.D.
Vision Correction & Dry Eye Specialist
The material contained on this site is for informational purposes only and is not intended to be a substitute for professional medical advice, diagnosis, or treatment. Always seek the advice of your physician or other qualified health care provider. 
These are surgical procedures and results may vary. While infrequent, complications can occur. Before your procedure, you will read an Informed Consent document which discusses potential complications and risks. Dr. Whitten will thoroughly review this information with you and answer your questions.