November is National Diabetes Awareness Month
November 6, 2017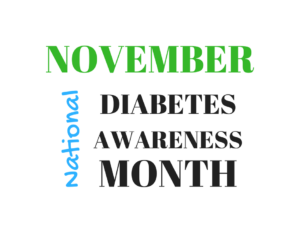 Every November is National Diabetes Month.
Together with the Centers for Disease Control and Prevention, the National Institutes of Health, the American Ophthalmology Association and the American Optometric Association, Whitten Laser Eye is helping raise awareness of diabetes and its impact on our community
Approximately 1 in 10 Americans will have diabetes by 2040. Most patients are unaware that diabetic retinopathy can be present without any noticeable symptoms and that eye examinations are crucial to saving sight and to making the diagnosis of diabetes.
What is Diabetes?
Diabetes is a condition where the body is unable to properly control levels of blood sugar, aka blood glucose.  Blood sugar is difficult to manage and is usually too high.  Insulin, a hormone normally made by the pancreas, helps convert glucose (sugar found in food) into energy sources for the cells of our body.  
There are two types of diabetes:
Type 1 Diabetes (T1D)

Type 2 Diabetes (T2D)
Patients with Type 1 Diabetes no longer have their own cells to make insulin.  Insulin is a vital hormone necessary to process energy from food we eat.  Patients with T1D must take daily doses of insulin as their body can no longer make insulin.  
Patients with Type 2 Diabetes are able to make insulin, but the body does not use it correctly.  Most patients with T2D require medications to decrease blood sugar, but do not require additional injections of the hormone.
For reasons that scientists are just beginning to understand, high sugar levels can cause disease in almost every part of the body.  
Diabetes and the Eyes
Diabetes can affect the eyes and cause blindness.  Patients with diabetes are also at higher risk for developing: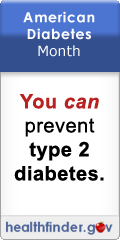 Heart disease

Stroke

Kidney disease

Dental problems

Nerve damage

Blindness
Diabetic retinopathy is the eye disease caused by diabetes.  The retina is the light sensitive tissue which lines the inside of the eye and is sometimes referred to as "the back of the eye."
The retina captures light and sends electronic signals to the brain to allow us to see.  
Diabetic retinopathy often has no symptoms at all, but can cause anything between blurry vision to complete blindness.  Good vision does not correlate with absence of disease.
Fortunately, with regular and timely eye examinations, severe vision loss can be avoided.  
In the western world, diabetes is a leading cause of blindness, but there are treatments widely available which can prevent severe vision loss.
What Can You Do?
Help us spread awareness of diabetes during National Diabetes Month.  
Please share/Like/ReTweet our articles online with your friends and family to help raise awareness of the complications of the disease, but especially, how to prevent loss of vision or blindness from this silent disease.
For more information about diabetic retinopathy, please follow our website or our social media pages during National Diabetes Month.  World Diabetes Day is November 14.
---
If you would like to make an appointment and concerns about diabetic retinopathy, please give us a CALL 301.825.5755 or EMAIL (Whitten@WhittenLaserEye.com us!
Shilpa Rose, M.D.
Vision Correction & Dry Eye Specialist
Mark Whitten, M.D.
Vision Correction Surgeon
LASIK, Cataract & Raindrop
The material contained on this site is for informational purposes only and is not intended to be a substitute for professional medical advice, diagnosis, or treatment. Always seek the advice of your physician or other qualified health care provider. 
These are surgical procedures and results may vary. While infrequent, complications can occur. Before your procedure, you will read an Informed Consent document which discusses potential complications and risks. Dr. Whitten will thoroughly review this information with you and answer your questions.