LASIK Improves Your Golf Game | Laser Vision Correction for Golf
June 27, 2017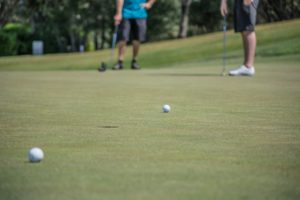 Golfers have special visual needs and requirements.  Any athlete who competes at a competitive level knows the risks and hassle of wearing glasses or contact lenses.  Golfers who need glasses play with an additional handicap.
Glasses can shift, fall off or break.  In some sports, such as martial arts, glasses disqualify you from competition because they can break.  Contact lenses have their limitations, too, such as falling out, dirt underneath the lens and tearing.
Golfers can be hindered by shifting glasses during a swing, difficulty following the ball in flight and putting.
In this video, I performed LASIK to both eyes of this professional golfer.
Golfers Love LASIK
Over the years, I have performed LASIK on hundreds of professional athletes, particularly professional golfers.  Tiger Woods, Fred Funk, Bernhard Langer, Bobby Wadkins and many others have improved their vision with LASIK.
LASIK allows the golfer to accurately track the ball as it arcs toward the distant green.  Many professional golfers also find that LASIK makes them better teachers as they can watch the entire flight of the ball and make changes in the golf swing based upon the behavior of the ball in flight.
Many of my patients love the enhanced ability to read a green due to their improved vision.  Seeing the green and reading the grain are, in my opinion, the biggest advantages to LASIK.  Many golfers, including Tiger Woods, note that the size of the cup is larger after having LASIK.
In addition to improved vision, foggy lenses are no longer a problem in misty chilly conditions.  Glasses also can slip during a swing.  Clear and consistent vision allows the golfers to better concentrate on their game.
Better Vision in Minutes
Most cases of LASIK are very similar to this procedure featured in the video.  The procedure takes less than 10-15 minutes and both eyes are typically treated at the same time.
Patients are kept awake, but are very comfortable.  The patient is obviously comfortable enough for us to have a conversation.  In the background, you can hear the two of us talking about golf during the procedure.
Vision improves almost immediately.  The vision on the morning of the first day after surgery is the most dramatic and rewarding.  I love seeing patients the very first day after LASIK with their renewed vision.
If you would like make an appointment for a LASIK consultation, please call us (301.825.5755).  My team and I look forward to meeting you.
Mark Whitten, M.D.
Vision Correction Surgeon
LASIK, Cataract & Raindrop
Shilpa Rose, M.D.
Vision Correction & Dry Eye Specialist