Happy Birthday LASIK | Laser Vision Correction 30 Years Ago
March 20, 2018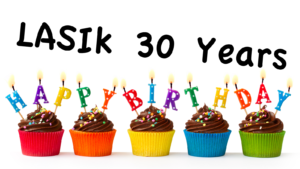 The first laser vision correction procedure was performed 30 years ago.  March 25, 2018 is the exact day when the first laser was used to perform PRK, the first laser vision correction surgery.  Since then, the procedure has been refined such that LASIK is now the most common laser vision correction procedure.
History of Laser Vision Correction
The history of the first laser vision correction began in 1983.
The groundwork began in a landmark scientific paper describing the novel use of an excimer laser to reshape the cornea.  While refractive surgery had been performed for over 100 years, a laser was never utilized.
Early research involved refining the technique using plastic text blocks, then transitioning to cadaver human and animal eyes.  Eventually, the research team was perfecting the procedure on live animal eyes.
The FDA gave permission for the first human laser to be performed.  The procedure was performed on a patient with cancer of the orbit (eye socket).  Treatment for the cancer would involve removal of the eye. The FDA allowed PRK to be performed just before the eye was to be removed.
This was the birth of LASIK as we know it today.
Because of the bravery of the first patient, known as Mrs. Cassady, vision correction procedures using a laser were now possible.  The FDA was impressed with the results that trials on humans commenced shortly after this landmark procedure.
LASIK Modern Version PRK
The original laser vision correction procedure was PRK, photorefractive keratectomy, and is still very popular in certain areas in the world.
While both PRK and LASIK involve reshaping the cornea with the excimer laser, PRK does not involve creation of a corneal flap, hence, PRK has a longer recovery, patients have more discomfort and vision takes longer to improve.
Advances in "flap technology" allowed photorefractive keratectomy to evolve into LASIK.  By creating a flap, patients experience faster visual recovery, less discomfort and faster healing.
Dr. Whitten has performed more LASIK procedures than any other surgeon in the region.  The accuracy of the laser allows very predictable and reliable results. The creation of a flap makes the procedure virtually painless and allows faster healing.  Many of our patients notice improved sight immediately.
The reliability of the procedure and the experience of Dr. Whitten have help make LASIK the most popular laser vision correction in the world.
Happy birthday LASIK!
If you have questions or concerns about laser vision correction or simply want to schedule an appointment with Dr. Rose or Dr. Whitten at any of our locations, please call or email us!
---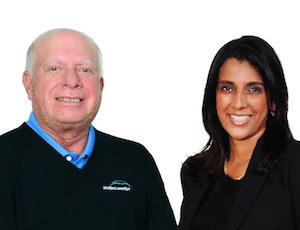 Shilpa Rose, M.D.
Vision Correction & Dry Eye Specialist
Mark Whitten, M.D.
Vision Correction Surgeon
LASIK, Cataract & Raindrop